Veterinary Research Centre
The VRC is a major component of the Advanced Scientific Group; it is the main source of revenues that help sustain the development and thriving of the other components. It is the biggest institution of its kind in the world of camel breeding. It is composed of a number of sections and units, namely:

A) Camel Embryo Transfer
B) Camel Infertility
C) Natural Breeding
D) Animal Health and Management



(A) Camel Embryo Transfer Section
Embryo transfer technology (ETT) for camels was launched at this Center in 1990. Since then, up to 2013, some 5000 calves have been born using ETT.

The gestation period of the dromedary camel is twelve and a half months; so only one birth can be afforded in two years, through natural breeding. Pregnancy also means one she-camel absentee from the races. To overcome such problems, ETT was launched, and it has now been established as the main method of breeding at VRC. The number of high quality breeds has consequently multiplied tremendously over the last decade.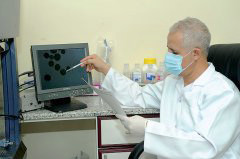 ETT has enabled us to get offspring from camels without subjecting them to long periods of pregnancy. Moreover, several offspring can be obtained from the same camel, averaging 25 calves per she-camel per breeding season. A famous she-camel in this regard is the one called " Al Samha", i.e. , "the beautiful". The Center currently receives camels for embryo transfer, not only from various parts of the UAE, but also from other GCC countries, such as Saudi Arabia, Qatar, Oman, Bahrain and Kuwait.



(B) Camel Infertility Section
Camel infertility is one of the challenges faced by the veterinarian dealing with camels; he needs a lot of theoretical and practical knowledge of camel genealogy (threiogenology), as well as veterinary prowess and physical fitness. Endowed with such facets, the Center currently receives large numbers of camels for infertility examination and treatment every week. The owners are nominally charged for these services, just to keep in check the heavy rush. Appointment dates for infertility are fully booked in advance several months before the start of the breeding season. Thousands of cases have been admitted and successfully treated for infertility.



(C) Natural Breeding Section
The VRC stocks a large number of high quality pure-bred male camels of proven track record of performance in races, not only of their own but also of their offspring. This has created a huge interest among camel breeders and trainers of the UAE, as well as the GCC countries, to bring their camels to the Centre for natural mating. Also, due to long queues, pre-planned appointments have become necessary. Hundreds of natural mating cases are handled every year at this Center.
(D) Animal Health and Management
This section has been operating since the inception of the Center in 1990; it includes the following units:

a) Disease Prevention, Treatment and Surgery: The main duties of this unit include disease prevention, (through constant monitoring of animal health and enforcement of vaccination programs), prompt treatment of sick camels, including surgical intervention whenever necessary. 

This unit is also responsible for monitoring and closely supervising certain race camel stables of members of the Royal Family.

b) Feed and Fodder Unit: This unit is involved in the day-to-day feeding of all camels at the Center. Animal nourishment and fodder is the most expensive item of the Center's budget, due to the large number of camels and the exorbitant price of feed and fodder.

c) Clinical Laboratories: This unit is composed of a plethora of labs, such as: Analytical Chemistry, Biochemistry, Hematology, Parasitology and Microbiology labs.