Situated at Al Heliya region, near Abu Dhabi International Airport, on Abu Dhabi-Sweihan Road, the Veterinary Research Center (VRC) is under the benevolent auspices of HH Sheikh Hamdan Bin Zayed and HH Sheikh Hazaa Bin Zayed, since its inception in 1990.

Initially, it used to consist of two sections: a) Camel Breeding, and b) Veterinary Clinical Laboratories. It was equipped with field staff responsible for management, treatment and breeding processes related to the racing camels of members of the Royal Family of Abu Dhabi Emirate. Known by the name "the Camel Research Center" in the early nineties, it is now well established as "the Veterinary Research Center", though often called "Sweihan Laboratory", in view of its proximity to Sweihan town.

The Camel Breeding Department has been intent upon selective breeding of local purebred dromedary camels for races as well as milk production, using embryo transfer technology (ETT). The first offspring of this technology was a calf born in 1992. From that date up to 2013, some 5000 calves have been generated through ETT. This is the only center in the world where such a large number of camel calves are born with the help of this technique. The she-camel usually gives birth to one baby within two years. Using ETT, however, an average of at least five babies can be produced of the same parentage every year. The number can be as high as twenty five babies per she-camel, and much more for the he-camel.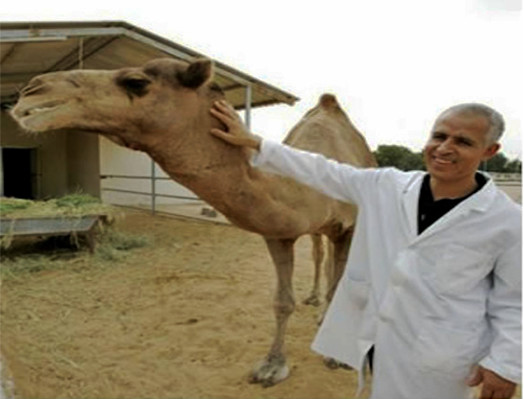 Other scientific techniques have been perpetually improvised by VRC, with tangible results. In 2005, for example, VRC made a breakthrough by producing a live camel calf using in vitro fertilization (IVF). Streamlining and further development of such processes are the ongoing pursuit of this center.

A huge number of camels' race winners originated in the Center. They have become vintage high-value items, bought and sold for millions of UAE dirhams or US dollars at popular and widely publicized auctions. Camel owners, breeders and trainers are among the elite businessmen of the GCC countries, prominent among who is the UAE. One calf was recently sold for DH 6 million (about USD 1.6 million) at a local camels' auction.

Ever since 2005, the facilities and services of VRC have been made accessible to members of the public; any camel raiser can bring his flocks for infertility checkup and treatment, on prior appointment. Pure-bred high-quality calves produced at the Center can be purchased at the various auctions organized prolifically by VRC. In 2010, the Centre was moved to a new location at Abu Salaf, not far from Sweihan town, in view of the spaciousness of the new site that can accommodate the growing number of camels (now in thousands) under the attention of the facility. A year later, in 2011, a new department dealing with camel parentage verification was established, and it is now open to the general public. Known as the "Advanced Genetics Center", it has a laboratory furnished with state-of-the-art equipment.